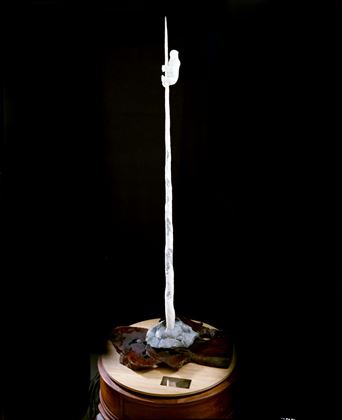 The Hodgson Trophy is presented to the contingent that demonstrates the best understanding of the philosophy of the Arctic Winter Games and most exemplifies the spirit of fair play during the Games week. 
Mission staff, chefs de mission's, assistant chefs de mission's, coaches, AWGIC directors, media, Host Society board members and senior staff vote during Games week to decide the winning contingent. 
The trophy is awarded by the AWGIC during the Closing Ceremonies where the winning team is presented with a framed picture of the trophy and a special Hodgson Trophy pin and pin bag. 
ABOUT THE TROPHY
The Hodgson Trophy was donated to the Arctic Winter Games Corporation in 1978 by Commissioner S.M. Hodgson.
The distinctive trophy, which is a piece of Inuit artwork from the Canadian Arctic, features a narwhal tusk that stands as the centrepiece mounted on a soapstone base. A walrus is carved into the base wrapping itself around the tusk. Near the top, a soapstone bear clings to the tusk, symbolizing  "reaching for the top" in competition and fair play.
The trophy is now located at the Whitehorse Canada Games Centre, after being moved from Sport Yukon in January 2020.
Hodgson Trophy Past Winners
Greenland - 2023
Alaska - 2018
Alaska - 2016
Greenland - 2014
Nunavut - 2012
Alaska - 2010
Nunavut - 2008
Alaska - 2006
Nunavut - 2004
Greenland - 2002
Nunavut - 2000
Yukon - 1998
Northwest Territories - 1996
Greenland - 1994
Northwest Territories - 1992
Alaska - 1990
Yukon 1978-1988